Hey guys and girls! Paranormal Wastelands is proud to present our very first blog tour!
We are looking for some super awesome blogs that want to read, review, and have fun with Randi Black's debut novel "Miss World".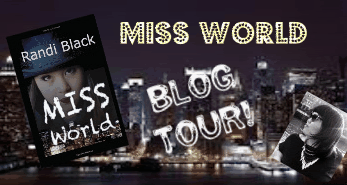 Wanna know the skinny?
About the Book:
It's 1993. Kim Ho wishes she were Courtney Love, instead of the chubby 16-year-old who clashes with her traditional Chinese parents. Her very own Kurt Cobain arrives in the form of Kevin, a 26-year-old failed musician. But Kevin uses Kim's rock-star dreams to exploit her, and those dreams die along with the real Kurt Cobain.Too scared to tell anyone, Kim conjures up a cross-dressing imaginary friend and dates Walter Riordan, the cute boy from special-ed. Walter helps her recover, but after a joke snowballs into a plot to murder Kevin, Kim's forced to choose between revenge or her sanity. This is a truly daring and original coming-of-age novel about one girl's quest to reclaim her power from those who've stolen it.
About the author:
Once there was a girl who grew up in San Dimas, CA. Her mom loved telling her that she was a difficult child, even before she was born. Whatever, though. Getting A's and playing piano bored her. Randi Black preferred writing and punk rock. Then she got accepted into the MFA in Writing program at the School of the Art Institute of Chicago and became Randi Black. During a fit of insomnia, she started Fire Spirit Press to release "bad books for bad girls." Randi lives in Chicago with her partner and the ghost of their dead feline, Stitchie von Poo. She is currently working on two sequels to Miss World.
The Social Networking Hook-up:
Twitter: Ms_Randi_Black
Google+:
https://plus.google.com/u/0/115881815684823644649/about
Goodreads:
www.goodreads.com/author/show/4829541.Randi_Black
Blog:
http://randiblackfuckyeah.blogspot.com
Website:
www.randiblack.com
We are looking for 10-15 blogs to host reviews, author interviews, character interviews, & guests post during this tour. This tour will kick-off on February 1st, and run throughout the March 3rd. As a tour host you will recieve your choice of a eBook or paperback copy of the finish book! (books will be shipped out the 3rd week in December to give host plenty of time to review the book) During the tour one lucky grand prize winner will win a iPod loaded with a playlist from the book with a personalized gel skin cover! There will also be chances to win copies of the book throughout the tour.
Spots are limited so sign up using the form below today!
Thanks for participating and let the fun begin!