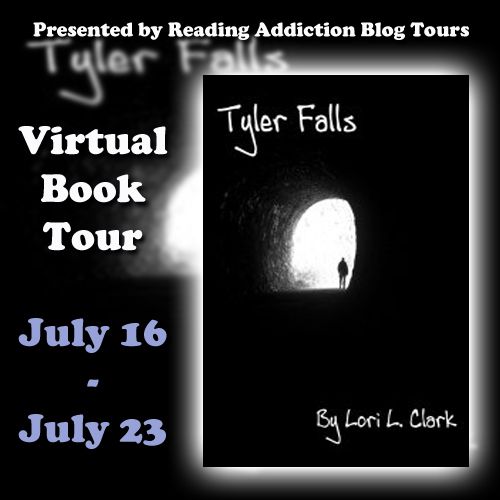 Welcome to the first stop on the Tyler Falls blog tour!!
Today, not only will you get to know a little bit more about this awesome book, and the wonderful lady behind the writing, you will get a sneak peak at the words inside, AND a chance to win a copy of the book!!!
So, without further ado, let me introduce you to the lady behind the writing...
Author Bio
1. I'm an only child.
2. I love dogs!
3. I was born in Iowa City, Iowa and lived in Iowa my whole life until January 2007, when I moved to the STL area.
4. I worked as a professional psychic reader for 2 years.
5. I'm a Pisces Sun, Leo Moon with Aquarius rising.
6. I've written 3 books and am in the process of writing my 4th.
7. I don't look or act my age!
8. I've been married twice and divorced twice.
9. I love 80′s hair band music.
10. I'm a claims payment analyst for Fortune 500 Magazine's #16 "Top 100 places in America to work."
And now to meet her book....

Tyler Falls
By Lori L. Clark
Published May 26th 2012
Pick up your copy today at Amazon!
Synopsis borrowed from Goodreads:
By the time seventeen-year-old Tyler Falls meets Emma, his "Thirty-Days-Left-to-Live" plan is already in place -- and falling in love isn't part of that plan.
Tyler has suffered from manic depression for as long as he can remember. Through medication and therapy, he manages to keep his life together. But when his parents are murdered, he decides he's had enough of living as a broken person with a broken life. So, in thirty days, he plans to stick the barrel of his Ruger SP101 into his mouth and pull the trigger.
Emma Perez's brother, Ethan Giovanni, sits in a mental institution for the murder of Dr. and Mrs. Falls. Deemed mentally incompetent and unfit to stand trial, Ethan has one weekly visitor -- Emma. She doesn't deny his guilt, he's her brother and she loves him spite of the fact he's paranoid schizophrenic.
They say when you cross paths with someone more than once, it's fate -- you're destined to meet. Tyler doesn't know Emma is Ethan's sister, and Emma doesn't know Tyler's story either. When Tyler learns who Emma's brother is, the world he's rebuilt around her begins to crumble all over again and it leaves both of them wondering why fate has such a cruel sense of humor.
And now for the excerpt...
My name is Tyler Jacob Falls and I have exactly thirty days to live.
The special school I attend -- not short bus special -- and my shrink Dr. Dynerbaugh think talking about my problems will be great therapy, part of my healing process. She wants me to open up and share my thoughts and feelings more. Dr. Dynerbaugh even gave me a journal to write in, but I don't plan on using it. I've got news for her; there are more pages in that empty journal than I have days left.
I'm seventeen and live with my aunt and uncle on Loon Island. I've lived here since April last year. No, my parents didn't get a divorce or kick me out. Dealing with that would be a piece of cake compared to what really happened.
My parents were murdered -- on Valentine's Day.
That night, when I pulled into the drive after dropping Livi off, (Livi is Olivia Barnett -- only the hottest chick at Fort Jupiter High School. Yeah, I didn't always have the big "L" on my forehead like I do now), the front door to our house stood wide open. It being February in Fort Jupiter with a foot of fresh snow covering the front lawn, I knew there was no way in hell the front door should be open like that. We had a running joke in our family about my mom being like the Energy Nazi and she would flip out about someone's lack of procedure.
My gut told me something was bad wrong so I pulled out my cell phone, just as a precaution, and inched closer to the front door. When I walked in, that bastard Ethan Giovanni was wiping the blood from the knife he'd just slit my parent's throats with. He wore a sick, twisted grin on his face. I had about two seconds to dial 911 before he spotted me.
For someone who just offed two people in cold blood on their living room floor; he showed no more emotion than if he'd just squashed a freaking cockroach.
He had pure evil in his eyes. It's those eyes that will haunt my dreams every night for the rest of my remaining life -- when I actually sleep. Giovanni tried to make me victim number three, and the last thing I remember about that night was the distant echo of sirens.
He tried to run, but they caught up with him about three blocks from our house. But before running like the pussy he is, he stabbed me four times. I spent the next six weeks breathing through the pain of a punctured lung and took my meals through a tube attached to needle in my arm.
My mom and dad were buried while I lay in a semi-comatose state due to all the drugs they kept pumped into my body in the ICU at Fort Jupiter Memorial Hospital. When they said I had healed enough to leave the hospital, I went to live with my aunt and uncle -- Nicole and Kyle Falls -- on Loon Island.
There are Three-hundred-forty-two residents on Loon Island -- forty two normal people and three hundred crazy people.
Those numbers are subject to change, depending on what kind of day I'm having, to forty-one Normals and three-hundred-one Crazies.
My Aunt Nicole gets on my case for calling the residents of the nuthouse Crazies. I should probably clarify something. Loon Island was named for the bird and not because of the lunatics who live here. Oh and the Loon Island Psychiatric Hospital is not the loony bin or even the insane asylum. I wouldn't want to offend one of the nutcases or their families by being politically incorrect. (Sarcasm.)
Ethan Giovanni. His face and name are two things that will go out with me when I pull the trigger. There wasn't a trial because they said he's not competent enough. He's insane. Gee, ya think?!
How ironic is it that we both live here on Loon Island? He's one of the Crazies I told you about. He's in the maximum security part of the nuthouse -- supposedly on suicide watch twenty-four/seven. If you ask me, they should give him a rope and save the tax payer's money. Some people can't be rehabilitated. I mean what's he going to do? Find God? Give me a friggin' break. Scum like Ethan Giovanni don't deserve to live.
We're supposed to take the ferry to the mainland today. It's Monday, May 25. Memorial Day. Aunt Nicole wants to take me to the cemetery where my mom and dad are buried. It will be a day of firsts for me. The first day I've been off the island in over a year and the first time I've been to the grave site. Ever. I wonder if they'll bury me next to them.
Aunt Nicole knocks on my locked door and I tell her I'm coming. Since she knows I keep the door locked she doesn't bother trying to open it.
It's not that I don't trust my aunt. On second thought... it kind of is. I don't trust anybody. She works for the hospital sometimes. Her and my uncle both work there. Most of the Normals on the Island either work at the hospital or live with someone who does. She's a Criminologist who studies the nature, extent, causes, and control of criminal behavior in people and in society. I've seen the way she watches me like I'm one of her patients and I know she's just waiting for me to snap.
My Uncle Kyle's a warden at the big house. Kyle's badass -- for an old man. He's not old like ancient or anything, just older than me. He works out every day and I know he could kick some serious ass without blinking an eye. I know he'd kick mine in a heartbeat if I were to cross the line. Oh and just for the record... I'm no scrawny assed wimp.
I've heard people say never trust anyone over thirty. I have a different set of rules about trust. Don't trust anyone old enough to focus on you with their eyes or manipulate you with a smile. So, except for newborn babies and really old people, there aren't too many people able to earn my trust.
I work out in Uncle Kyle's basement gym late at night when no one's around to spy on me. Now, it's a matter of survival -- in case they lock me up in the nuthouse again and not because I'm trying to turn some hot chick's head. Dr. Dynerbaugh -- Dr. Dinnerbell as I like to think of her -- says it's good to exercise at least thirty minutes each day. It's supposed to help with my depression. She should practice what she preaches. She's not depressed, she's just fat.
Wanna read more? Want a chance to win your own copy of Tyler Falls?!
We thought you might *winks* One lucky winner will get their own copy. All you have to do is answer this question in the comments section:
Could you fall in love with someone knowing that their family member murdered your parents? Or would it be to much to look past?
After you answer the question fill out the Raffledcopter form below to enter to win your on eBook copy of Tyler Falls.
This is open Internationally!!