In My Mailbox is hosted by
The Story Siren
. Wanna join in on the fun? Click
here
for all the details!
This week we got some of the most awesome swag EVER in our mailbox!! Like so spectacularly awesome that we squee diddled our little teeny tiny heads off !!
First we got something from the most awesome hobbit
Tim O'Rourke
the author of
Vampire Shift
.
You might remember us
talking about that certain book
only because well we were awesome in it and because of that we have totally boosted hobbit's fame and because he loves us so much he promised us a most awesome gift.
Well, it has finally made it to the land of Alabama!! It took a while, had a bit of a shaky journey... but ZOMG it was worth the wait!!
Here it is!! I wonder what's inside?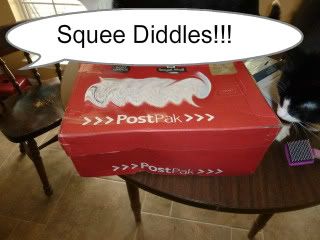 I fear the Keebler Elves are still at war. EASTSIDE!!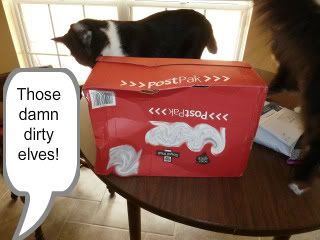 Greta's cat's had one fun time going through the box.


Especially Lucky

What made us squee are these two lovely dudes!

The Grey is for Darkfallen. Isn't he cute? Greta will be sending him to her shortly

And this lovely is for Greta.

Its unclear if he has a name so she has decided to call him Lieutenant Cupcake and has him proudly displayed on her mantle. She has been warned to keep him clear of jelly beans. She will try her best to not break this rule but in case of an Apocalyptic Jelly Bean takeover she doesn't want to be held accountable ;)

So thank you TIM!!! You are by far our most favorite hobbit.
Darkfallen:
I thought Gavin Rossdale was your favorite hobbit

Greta:
Oh yeah... he is....
SO thank you TIM!! You are by far our most favorite hobbit that we don't want to undress with our eyes!!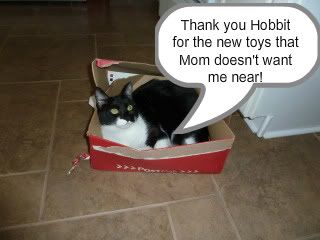 THANK YOU THANK YOU TIM!!!

The next most awesome thing that we got is what Darkfallen won in a most awesome contest hosted by
Strangemore.Com
!!
Check it out kids!!


Be jealous!! Be very very jealous!!

-cuz Greta sooo is!!
So as you can see we had a great week!! What did you guys get?