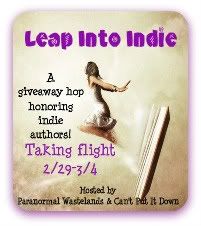 Welcome to Leap Into Idie!
What is Leap Into Indie, you ask?
Simple! It's a giveaway hop dedicated to indie authors and their fabulous books:) Through blogging we meet some pretty awesome indie authors that we might not have met otherwise, so lets share the love out in the book blogging world by hosting a giveaway dedicated just to them!
Now I know you have other questions like...What's a giveaway hop? And How do I sign up? Well first let us introduce you to our top five indie finds this year....and then we will move on to the details!
Paranormal Wastelands' Top 5 Indie Books
Silas
Now back to the details...
What is a giveaway hop?
A giveaway hop is an event hosted where bloggers across the blogg-o-sphere link up and each host a giveaway on their site. There is a linky list so hoppers can easily hop from one giveaway to the next! It helps generate a lot of blog traffic for your blog and helps you meet some pretty awesome bloggers:)
How do you sign up?
That's easy peasy! All you have to do to sign up and join in the fun is fill out the linky form below. Please make sure that you type your web address and email correctly.
Rules shmules...
1.)This event is hosted by
Paranormal Wastelands
& Jen from
Can't Put It Down.
You can sign up on either blog but please only sign up once. Once you sign up grad the badge above and place it in your sidebar so other people can sign up!
2.)Each blog is responsible for providing their own giveaway for this event. The giveaway must be either an indie book, or a gift card to a book store to buy indie books.
3.) Each blogger can set their own rules for entering their giveaway. (Example: International, US Only, Must follow on GFC, Follow on Twitter, Leave a comment, ect.) Just remember to keep it simply. No Jumping through hoops for the intial entry.
4.) Each post should have the Leap Into Indie logo at the top of their post and the linky list for the rest of the giveaways at the bottom. This allows for hoppers to easily hop from one blog to the next.
That's it! Easy Peasy;-)
Now fill out the linky here to sign up! Just Click the botton:)