My Life as a White Trash Zombie
By
Diana Rowland
Published July 5th by DAW
Pick up your copy today at B&N, Amazon, or your local indie!
Synopsis borrowed from
Goodreads:
Teenage delinquent Angel Crawford lives with her redneck father in the swamps of southern Louisiana. She's a high school dropout, addicted to drugs and alcohol, and has a police record a mile long. But when she's made into a zombie after a car crash, her addictions disappear, except for her all-consuming need to stay "alive"...
"Why did I have the urge to grab a handful of that pink and grey mass and shove it into my mouth like movie popcorn?"

What a terrific beginning to a series! I thoroughly enjoyed Angel!

Angel is an underachiever who has lived a rough life. She dropped out of high school in her sophomore year, her mentally ill mother died in jail, her father is an alcoholic, and she is an addict with an arrest record. Not exactly an equation for a lifetime of success, right? Her opinion of herself is pretty low. And its about to get even lower. When the story starts, Angel is waking up in an ER to find that she was found naked on the side of the road. She is told that she overdosed, which makes her feel like an over-the-top loser.

"The nurse wasn't lying to me or messing with my head. No, I was simply a loser. Overdose. Great. Well, this was a new low for me, and it didn't help that it was totally believable."

Despite this news, she has fuzzy memories of being in a horrific car accident although she doesn't have a scratch anywhere on her body. To make things even stranger, someone has left Angel a bag of clothes to change into, a stash of some kind of liquid, and a note that says she has a new job at the coroner's office.

So, you guessed it...Angel has become a zombie. A ZOMBIE! I love the original premise for this book! Angel's journey is amazing and extremely entertaining. She gets a lot on her plate very quickly. Someone has mysteriously rescued her, made her into a zombie, and set her up with a job (as the person who picks up dead bodies at crime scenes and assists in autopsies). At least this job gives her easy access to her new craving...brains! Angel also has a lot to deal with when it comes to her on-again off-again boyfriend and her father, and on top of everything else someone is chopping off heads around town (how very rude...).

"That…is a zombie, I silently shrieked to myself. Holy fucking shit. That's a motherfucking zombie, and this shit is real."

I really liked this book! Angel makes more than one transformation as the story unfolds. Not only is she learning how to handle her new predicament and her new...eh...hunger, but she is also learning to have some confidence in herself. As Angel's story goes on, we see her gain some self-dignity and pride. Its nice to see these changes. It made me feel like I really knew Angel, and I was pulling for her the whole time.

My favorite aspect of this book is the humor. Angel has some awesome one-liners!

"Then I couldn't resist. I took a deep breath and yelled: "Zombie Super Powers, Activate!"

Now, keep in mind that this book is about zombies. That means some grossness. There were a couple times when I got a tiny bit squeamish (I really hate when fingernails fall off...), but really all of the gross stuff is written really well and not over the top. Actually, the whole book is written really well. Rowland balances just the right amount of description with humor. I really enjoyed her writing style and now I'm completely on board with reading her other series, starting with Mark of the Demon.

I teetered between 4 and 5 stars for this one. I typically ask for a little more romance in my urban fantasy and there really wasn't much to be had in this book. There is a growing attraction with a police officer named Marcus, and I was hoping a little more would happen between him and Angel, but really this first book focused more on the mystery and on Angel getting used to being a new zombie. How can she really have hot sex with a guy when she is still learning how to keep her body from falling apart? I think this is officially 4.5 stars from me.

I am super excited that this will be at least a trilogy! Number 2, Even White Trash Zombies Get the Blues doesn't have a release date yet, but I can't wait!

Let me leave you with one last little gem from Angel's mouth:

"Well doesn't that just suck the shit out of a dead rat's ass."
Goldilox's rating...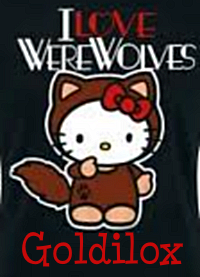 Wanna join the Zompacolypse hop? Want all the Wastelanders to trick or treat at your blog this Halloween? Then why don't you join the most awesome party around?! Details are Here but beware of the zombies!! Remember.... we warned ya -- muhahahahas!